Products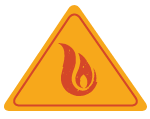 RediFlame Safety Tips
RediFlame wants to help you experience our products in the safest manner possible. These are good rules to follow when using any of our RediFlame products.
When burning this product in a chiminea, always follow the manufacturer's instructions regarding potential overheating and resulting damage to the chiminea.
Do not use for indoor heating unless proper ventilation to the outside is provided.
This product is not for use in gas fireplaces or gas grills.
When burning logs in the fireplace, open the fireplace flue.
Always open damper before starting a fire and use a fire grate.
Always use the RediFlame RediLight Fire Starter to ignite our Fire Logs.
Never place Fire Logs with end facing out, as they may expand while burning.
Never add lighter fluid after starting a fire.
Never use gasoline when starting a fire.
Never leave a fire unattended or fire screens open.
Never leave children alone near fire.
Always make sure ashes are cool before discarding.
If necessary, put fire out with water or fire extinguisher.
Glass fireplace doors can be damaged by excessive heat.
RediFlame is not responsible for accidents caused by the use of our products.
California Proposition 65 – Combustion (burning) of natural firewood, natural gas, artificial logs and fire starters can result in the emissions of carbon monoxide, soot and other byproducts. The State of California recognizes that these byproducts may cause cancer, birth defects, or reproductive harm.