A Green and Affordable Way to Enjoy a Fire.
Fuel pellets are an affordable, green way to heat your home or cabin. RediFlame creates its pellets from the waste of the lumber industry, including sawdust and other byproducts. This makes our pellets a green solution for home heating.
Our fuel pellets are also an approved heating fuel for the North Dakota Low Income Home Energy Assistance Program. If you are eligible for the program, you may receive help paying for your pellets.
Fuel Pellets are available in these sizes:
40-lb Bag
Pallet of 50 40-lb Bags
BECOME A RETAIL PARTNER!
Why Partner?

At RediFlame, we value the trusted partnerships we've earned with retailers. With excellent customer service and superior, eco-friendly products, RediFlame offers retail partners a relationship that is second-to-none. No matter the product, we aim to provide consumers with a quality RediFlame experience – indoors and out. That begins with our partnership with our valued retailers.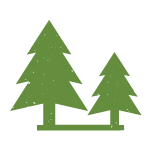 Why choose RediFlame?
Cleaner burning & easier ignition!

A renewable resource is better for Mother Earth.
Made from specially selected, 100% natural wood that would otherwise go to waste.
No chemical starters needed.
Fire Logs are made in a unique process that guarantees easy starting and extended burning.
No additional carbon is released.
Light your fire and feel good about leaving virtually no carbon footprint.