Clean Up Your Campfire
Chim Chunks are a clean, green alternative to charcoal. They burn at near-charcoal temperatures but are nitrate-free and clean-burning. Chim Chunks require no advance preparation or soaking. Use Chim Chunks in your open campfire or bonfire for a clean, green flame.
Our exclusive manufacturing process creates densely pressed briquettes that deliver superior heating. Chim Chunks are made of small, disk-like compressed wood and are perfect for the campfire. They're chemical-free, charcoal-free, and easy to start.
Hickory-flavored Chim Chunks come in a 6-pound, resealable bag that won't absorb moisture. The bag has a heavy-duty handle for your convenience.
Chim Chunks are available in these sizes:
6-lb Bag
Case of 7 6-lb Bags
BECOME A RETAIL PARTNER!
Why Partner?

At RediFlame, we value the trusted partnerships we've earned with retailers. With excellent customer service and superior, eco-friendly products, RediFlame offers retail partners a relationship that is second-to-none. No matter the product, we aim to provide consumers with a quality RediFlame experience – indoors and out. That begins with our partnership with our valued retailers.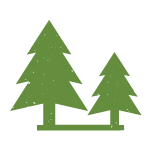 Why choose RediFlame?
Cleaner burning & easier ignition!

A renewable resource is better for Mother Earth.
Made from specially selected, 100% natural wood that would otherwise go to waste.
No chemical starters needed.
Fire Logs are made in a unique process that guarantees easy starting and extended burning.
No additional carbon is released.
Light your fire and feel good about leaving virtually no carbon footprint.